Jan & dean - surf city / dead man's curve
"Surf City" is the best vocal surf song excepting the Beach Boys' early hits and actually is just as good as any of those early Beach Boys hits. The Beach Boys comparisons are no accident: the song was co-written by head Beach Boy Brian Wilson, who also sang high harmony vocals on the track itself. It was, as well, just as commercially successful as anything the Beach Boys did, reaching number one in 1963 at the height of surf music's popularity. For a rock song of 1963 (and indeed of many rock eras), "Surf City" was unusually structurally and melodically adventurous, starting not with the verse but the chorus: the exultant declaration "two girls for every boy," which unexpectedly goes into a lower key as the rhythm revs up for the verse. The verse is the more standard Chuck Berry-derived basic rock & roll that Brian Wilson often used on his early compositions, but is still special, particularly with the constant low harmonized interjections of "surf city, here we come!" Surfing may be a rather frivolous pastime, but to hear Jan & Dean (and Wilson) sing about it here, it's delivered with no less passion than an announcement of the imminent coming of the messiah. The song builds excitement with a verse bearing a completely different melody and stratospherically high backup harmonies, coming around again to the "two girls for every boy" chorus. The mounting excitement of arrival at "Surf City," presumably the Los Angeles in which Jan & Dean and the Beach Boys lived, is heightened by a change to a higher key for the last half of the last chorus, after which the song rather peters out with an instrumental fade. "Surf City" has endured as a classic not just because of its musical excellence, but also due to its mythological resonance, summing up the endless-summer teen-bliss appeal of California beach surf culture better than any other song. And though the percentages were way off from reality, the promise of "two girls for every boy" fueled an even more basic teenage boy fantasy.
William Jan Berry (April 3, 1941 – March 26, 2004), was born in Los Angeles , California , the son of Clara Lorentze Mustad (born September 2, 1919 in Bergen , Norway ; died July 9, 2009) and aeronautical engineer William L. Berry (born December 7, 1909, in the Bronx , New York; died December 19, 2004, in Camarillo, California ), [4] He was raised in Bel Air , Los Angeles. [5] Jan's father worked for Howard Hughes [5] as a project manager of the "Spruce Goose" and flew on its only flight with Hughes. [4] [6] [7]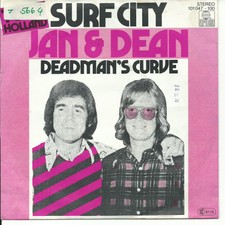 zc.g-partners.info
wz.g-partners.info